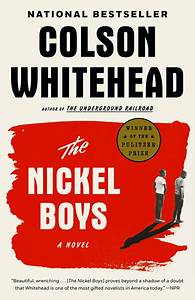 Colson Whitehead won the 2019 and 2020 Pulitzer Prizes for Fiction, the most prestigious American literary award, and joins the literary greats of Harper Lee, Ernest Hemingway, and John Updike.
Whitehead's latest novel, The Nickle Boys, is based on the real story of the Dozier School. It follows Elwood Curtis in the 1960's through his childhood and journey out of the segregated Florida reform school of Nickel Academy, run by the abusive Superintendent Spencer. Nickel is not only a reform school, but also a government brick pressing facility and local labor provider.
Elwood, a highly intellectual and hardworking African American boy, lives with his grandmother. In his freshman year of high school, Elwood decides to attend college classes outside of school. On his way to the college, Elwood's bike breaks, causing him to hitch a ride with an African American man. While driving, a police cop flags them down and it turns out that the driver actually stole the car. Elwood is then arrested and sentenced to Nickel Academy.
At his time in Nickel, Elwood would experience the horrors of beatings and cruel, unusual punishment; the most brutal being a modified washing machine that is designed to lash a child's legs. In such dark circumstances, he meets a boy on his second day, Turner, who he soon befriends. Turner arrived at Nickel before Elwood and acts as his mentor. The two team up and complete odd jobs by painting the school trustees' houses or doing other work for the town. Throughout Elwood's stay at Nickle, he reflects and draws power from his memorized quotations of Martin Luther King Junior. Dr. King's speeches and anecdotes provide Elwood hope that one day he will emerge from that prison and liberate those trapped in the insidious school. 
Whitehead is likely one of the 21st century's greatest writers. His style is pleasant and modern, but not uncouth or sloppy like Salinger's The Catcher in the Rye. Whitehead is able to create lifelike characters and settings. I can still envision Nickel Academy and the boys tending to the grounds. Whitehead reminded myself that there is still corporal punishment within the US. 19 states allow the physical punishment of students, with over 160,000 children experiencing corporal punishment nationally (PMC).
The novel spans a little over 200 pages, so it would be perfect for someone looking for an easier read before they crack into a more lengthy novel. Whitehead is only 51, so he has many more pieces to come. I look forward to reading his previously written, The Underground Railroad.