Mite Box Falls Short
Hang on for a minute...we're trying to find some more stories you might like.
At the beginning of this school year, and especially recently, we have seen many changes to B.C. High's weekly Mite Box. A student Mite Box Committee has been set up to assist in the execution of each week's charitable collection, and information on each week's agency has been posted for the school, in hopes that students will give more to the causes. These big changes have left students asking two crucial questions: 1)"Mite Box Committee… What?" and 2) "There's been information out on the Mite Box?"
One of the most noticeably lacking areas is the weekly all-school email describing the charity which the Mite Box will benefit. Last year, all students received a specific message which detailed the mission and nature of the week's chosen cause. Now, this message has been replaced by a few short, vague sentences on the topic. If students are actually familiar with the reasons behind donating, they will be much more likely to support the Mite Box charity.
This is a perfect task to be taken up by the newly formed Mite Box Committee, a small group of students dedicated to furthering the support and donations to this charitable cause. These students are in a position to easily and heavily impact not only our small community at B.C. High, but also wider communities, both local and global, through the charities affected by our donations. However, we have yet to see major positive effects from the works of the committee. In the near future, we should hope to see more advertisement of the weekly Mite Box charity and a more direct and intentional effort towards improving our Mite Box.
When you are handed your classroom's Mite Box on Thursday morning, it should be incredibly easy to pass it on to the next student without a second thought. I challenge you to stop and recall the namesake of the Mite Box, the biblical story of the Widow's Mite. The story was told by Jesus as a lesson to the people. He told of a poor woman who gave all she had in a donation to the temple, though the two small coins hardly made a difference in the amount of money collected.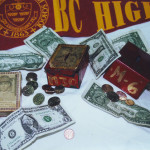 The widow in Jesus' lesson gives everything she has, and therefore gives more than any other. We, too, should give all we can each week for those whose needs are greater than ours. Whether a single dollar bill or a twenty, your donation could make all the difference in the life of an absolute stranger. There is no reason why each class could not collect a hundred dollars every week, bringing the school total to many thousands in donations. When we reach the point where all students, teachers, and other members of the B.C. High community donate everything within their power to our brothers and sisters in circumstances of poverty, tragedy, and injustice, we will truly be able to call our Mite Box ministry a success.