The meaning of football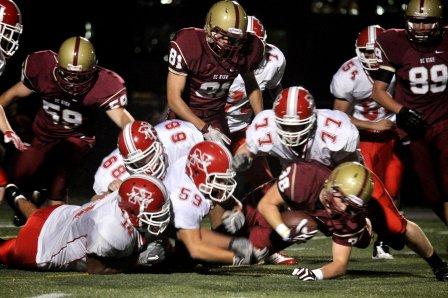 Hang on for a minute...we're trying to find some more stories you might like.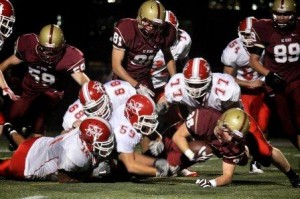 What is football? Football is a sport where men come together to test their endurance, their strength, and their will to succeed against others over a period of four quarters of intensive physical exercise. To get into the specifics of tactics, rules, and the history of the game would take too much time and be boring to read, so instead I shall focus on the fortunes of this year's BC High football team.
This year, the BC High Eagles have a level of dedication to the team that I have yet to see matched by any other high school program. We came together as a unit in the first two weeks of camp, during a time when many students were enjoying their last few days on the beach or panicking as they frantically tried to finish summer reading. We weathered grueling two-a-days, sleep deprivation, injuries, and both mental and physical fatigue. Through these trials, teammates formed new bonds of friendship, while others strengthened previous ties to the point where nothing could break them. We came together as men, and emerged an exclusive fraternity of players dedicated to the gridiron, a band of brothers who bleed maroon and gold, considering being a part of the BC High football tradition their greatest achievement and the highest honor the school can confer upon a student.
In the weeks since camp ended, we have suffered several setbacks in the form of injuries, but no setback can dampen the spirit of determination ever-present during practices and games. As Coach Joe Gaff always says, "Here at BC High we have a talented group of football players, if one man goes down, I should be able to simply plug another person in, and I know they will get the job done." We do not wallow in despair; we get the job done, and have fun doing it. In this writer's experience, there has never been a varsity team more excited to play the sport they love. Whether it be Bilindoff "Big Juice" Joseph pumping up the crowd during games, Skyler Evans getting the team ready for practices and games during calisthenics, or captains Jack McDonald, Luke Catarius, and Mark McGuire leading the team out onto the field with
enthusiasm and heart, these Eagles are hungry to play and excited to be a part of the great tradition of BC High Football. Do we have some kinks to work out of our system? Sure we do, but I know that under the tutelage of this year's coaching staff, we will achieve great things as we push ourselves to be the best players we can possibly be.
So as a player on the football team, I encourage the fans to keep coming out to games and stay strong in your support of the team. The positive support we have been getting from the student body has been phenomenal, and if you keep coming out to cheer us on, we will keep pushing ourselves to get better and better every week. For we are Eagles, and in the words of Luke Caterius, "BC, we fly," and we will not stop soaring until we win the Catholic Conference, playing smash-mouth, hard-nose football all along the way.