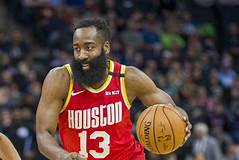 On January 13, 2021, Shams Charania of The Athletic tweeted out news that had been circulating around all day. James Harden of the Houston Rockets had finally been traded. Harden, 31 years old, had been looking for a trade ever since the Los Angeles Lakers uprooted the Rockets from the playoffs in just five games. Harden's teammate, Russell Westbrook, had requested a trade earlier in the offseason. This was granted, and the former MVP was traded to the Washington Wizards in a blockbuster deal for Wizards point guard John Wall. Wall, 30 years old, had been coming off an Achilles injury and requested a trade earlier in the offseason. He wanted to be the focal point of a team, and the Wizards seemed to want to go in a different direction.
After Westbrook was traded, it became increasingly apparent that Harden would be gone soon as well. When? That was still unclear at the time. But a few things were desired by Houston: they wanted draft picks and a young star to build around. The Rockets signed 25-year-old center Christian Wood to a three-year deal earlier in the offseason, and after a breakout start to the 2021 season he looks like the young star they were asking for. As for Harden, he had not been showing up to training camp at the beginning of the season. Stephen Silas, the Rockets new head coach, had said that James would return soon and was only taking a break. When Harden finally did come back, it appeared that he would play out the season in Houston.
As the season started, the team looked off. James, who usually averages around 35 points a game, was putting up only 17. He had turned down an extension earlier in the offseason for 50 million dollars a year, which is when Houston came to the realization that James would not be staying in the city where he spent the majority of his career. The Lakers blew out Houston on January 12, and it seemed to be Harden's last game with the team. He said the Rockets had an "unfixable situation," and that they would not get past the Lakers and make it to the NBA Finals. 
The next day, rumors started to heat up for the 8 time All-Star. Harden had been previously linked to teams such as the Boston Celtics, the Brooklyn Nets, the Golden State Warriors, the Miami Heat, and the Philadelphia 76ers. The Nets were the favorite to land James, as that is what his preferred destination was, but it seemed throughout that fateful Wednesday that Harden would end up in Philly. They had the best offer, with two upcoming stars in Ben Simmons and Matisse Thybulle along with draft picks. The trade ultimately fell through when the Rockets asked for rookie Tyrese Maxey instead of Matisse Thybulle. 
In the end, the Nets were the ones to land Harden in a four team deal with the Indiana Pacers, Cleveland Cavaliers, and of course the Rockets and Nets as well. The Cavs landed Jarrett Allen from Brooklyn, the Pacers got Caris LeVert from Brooklyn, and the Rockets received Victor Oladipo from the Pacers plus 3 unprotected first round picks and 4 pick swaps from Brooklyn. 
Brooklyn Nets: B+
This trade can go in many different directions for the Nets. For example, it may end up like the trade Brooklyn made with Boston in 2013. Back then, the Nets made a similar all-in push to the one they did for Harden. In exchange for Kevin Garnett, Paul Pierce, and other pieces, they sent Boston three first round picks and a pick swap, plus cap filler. After this trade was completed, Brooklyn collapsed. Boston turned these first round picks into Jayson Tatum, Jaylen Brown, and Kyrie Irving. But Harden is not Garnett or Pierce, and this 2021 deal is not like the 2013 blockbuster. In 2027, this article may look very foolish. Harden is significantly younger than either Pierce or Garnett were in 2013. Back then, Garnett was 37 years old and Pierce was 36. James Harden is only 31. This leaves the Nets with five or more years of Harden, while Brooklyn only had around 3 of both when that trade was completed.
Cleveland Cavaliers: A+
Not only did Cleveland shed money by trading away 3rd overall pick Dante Exum, they acquired the best young rim protector in the league from Brooklyn to be their future center. Cleveland's current center, Andre Drummond, enters free agency after this season, and it looks as though he will not return. Jarrett Allen averaged 11 points and 10 rebounds last season while having to share the floor with Deandre Jordan, another elite rim protector.
Houston Rockets: A
Trading away James Harden is the shifting of their franchise. James had been the cornerstone of Houston, so getting rid of him means their franchise will go in a different direction. The Rockets did not receive the young star they wanted, but they did get a load of first round picks. Houston has not had many picks since acquiring Westbrook, but that all changes now. The addition of Victor Oladipo might also get them more picks, as Oladipo does not want to play for them and could possibly be traded. Building around Christian Wood should be a priority for Houston.
Indiana Pacers: B-
Immediately after the full trade was completed, I would've given this move an A+ no question. The Pacers traded a disgruntled and regressing player in Oladipo for an up and coming star in Caris LeVert. But today, Adrian Wojnarowski of ESPN tweeted that LeVert has a small mass on his left kidney and will be out indefinitely. If Caris comes back to play at 100% however, then Indiana will likely be successful.
As this article has finished, James Harden put up a 30 point triple-double en route to win his first game as a Net. If everything clicks right and Kyrie Irving does play for Brooklyn, they should be clear title favorites.