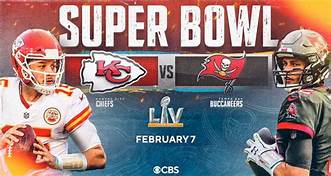 Even with all of the changes surrounding our lives due to COVID-19, one thing remains the same: the Super Bowl. Although stadium officials restricted the amount of fans present and food prices skyrocketed, the culmination of the NFL season continued, captivating millions of Americans. This year, the Tampa Bay Buccaneers host the Super Bowl coming off a close win against Rodgers' Packers. The Buc's off-season proved to be vital for their appearance in Super Bowl LV, showing that an offense led by newly-acquired assets — Brady, Gronkowski, and Fournette — can lead to a 59 touchdown team (3rd most in the league).
On the other side, the Kansas City Chiefs arrive in Tampa ready for their second consecutive Super Bowl. Andy Reid's team has Mahomes as a starting quarterback, Tyreek Hill at wide receiver with 17 touchdowns in the regular season, and Travis Kelce in the tight end position with 1,416 receiving yards (2nd most). The significance of this Super Bowl, however, is between the Quarterback matchup: Mahomes vs Brady. Brady has had a prestigious career, accumulating 6 championships with the Patriots and 3 MVP's. Even though Mahomes has an MVP and Super Bowl MVP under his belt, he is still 0-2 against Brady in the playoffs, and hopes to end his drought during Sunday's game. Moreover, this battle will symbolize the transition of power in the league; as one old great is nearing the end of his career, the other is beginning his own legacy.
Despite the power on both sides, Brady's Buccaneers managed to easily win 31-9. Brady passed for 3 touchdowns while Fournette ran for one as well. Even though Mahomes had 300 yards, he was intercepted twice and took twenty more pass attempts than Brady did. The Bucs' commanding defensive line hurried Mahomes 24 times by the end of the 3rd quarter, and many of his receivers failed to catch throws under pressure.
Regardless of the one-sided result, Super Bowl LV had record-breaking moments scattered throughout the game. Brady and Gronk achieved the most touchdowns between two players in Super Bowl history with 14. Bruce Arians of the Buccaneers became the oldest coach to win the Super Bowl. In addition, Sarah Thomas became the first female to officiate a Super Bowl. But most important is that Brady won 7 championships. Before joining the Buccaneers, Brady had the highest winning percentage in any of the top four North American sports while the Bucs had the lowest. Nevertheless, Brady led this organization into a brighter future, carrying the Lombardi trophy one more time. No matter whether you support the Pats, the Bucs, or don't follow football at all, you have to admit that we are witnessing the GOAT continue to dominate.