The Martin Luther King Service, Reimagined
Bringing the nostalgia and excitement of the MLK service to all students.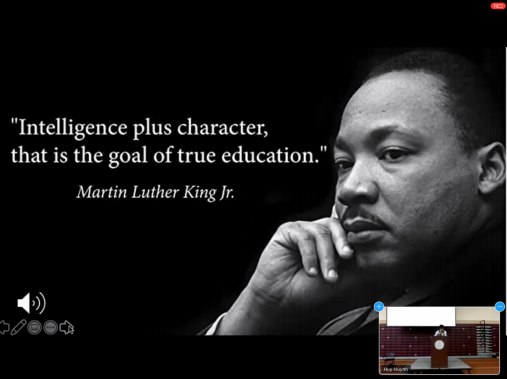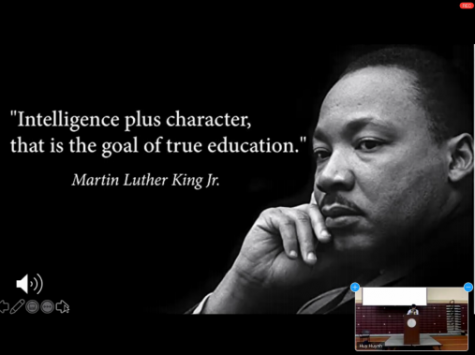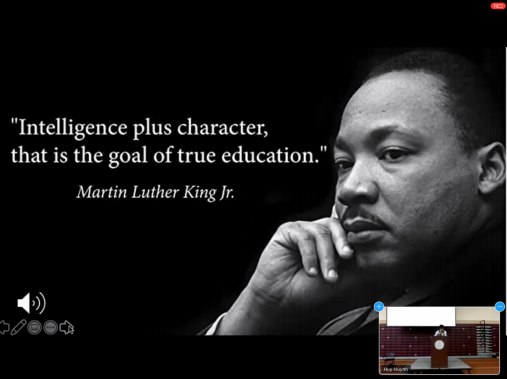 Amidst all of the changes, modifications, and accommodations brought about by the  COVID-19 pandemic, the annual MLK service was no exception. Normally, we would all be packed into McNeice Pavilion celebrating the life and legacy of Dr. Martin Luther King Jr. in the form of a vibrant, captivating prayer service. However, as we all know, we are currently unable to come together as a community due to safety concerns. Nevertheless, this did not stop the Black/Latino Student Union (BLSU) from bringing the nostalgia and excitement of the MLK service to the students both in school and at home on Zoom. 
         With all this in mind, the Black/Latino Student Union took a more fun and interactive approach to the MLK service by organizing it similar to an award show and centering it  around the theme of sharing our stories. On the peaceful morning of January 15, 2021, the service began with Greg Cooper '22, who served as the host of the event. Much like any other award show host, he and President Regan started the service with some welcoming remarks and an opening call to worship. Later on, he led us in meaningful silent reflection. He then came back to introduce a series of segments and  presentations. 
        In terms of the segments and presentations, we were given a brief overview, narrated by Jason Bbosa '22, of the history of Dr. Martin Luther King Jr. and his unexpected call to leadership. Shortly after this, we were introduced to a series of short presentations, each with time for some internal reflection.
         The first one highlighted the words of Dr. Bernice King as she reminded all of us that we must be more accountable for and more aware of our actions, and, more importantly, our propensities to disregard outstanding  social issues. The second presentation, led by Ishan Gichohi '23, took us down memory lane and discussed BC High's history in regards to the teachings of MLK. Matt Shoneye '21 gave the third presentation. This presentation was focused on the philosophies and actions of a figure who is deemed the opposite of Martin Luther King: Malcolm X. Matt eloquently drew similarities and continuities between the two,  showing how they are not as different as they are painted to be. The last of these  presentations, given by Derrick Vernet '21, continued off from Matt's presentation and  brought all of this information to a more current context. He powerfully differentiated  the events that took place in the U.S. Capitol from the Black Lives Matter protests of this past  summer. 
        This year's MLK service also had guest speakers, including two of BC High's most  distinguished alumni. Ifeanyi Obukwelu '07 spoke about patriotism and how it relates  to us striving to continue the work of Dr. Martin Luther King Jr. Similarly, Matt  Thompson '18 delivered a moving spoken-word poem, using religious and modern-day  examples, to remind us that we must not be weary because everything we do now sets  the foundation for our future. 
       Finally, to culminate the service, the host, along with Principal Lewis, offered some  closing remarks. In the final minutes, an inspirational song was played because an MLK  service is only complete with some music. The one and a half-hour service went  wonderfully well, and it left us with strong messages that resonated with much of our school  community. If anything, the service reminded us that there seems to be a lot of room to have further discussions and find ways to carry on the legacy of Dr. Martin Luther King, Jr.