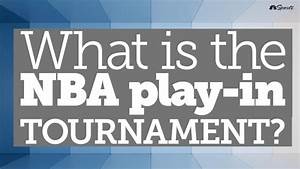 For an idea that seems really cool, where the nine and ten seeds in the conference have one last chance to make the playoffs, the NBA's new play-in tournament isn't so fun to other teams.
The play-in tournament started last season. There was one game between the Portland Trail Blazers and Memphis Grizzlies to decide the eight seed in the Western Conference, where ultimately the Grizzlies were no match for Damian Lillard and the Trail Blazers.
This year the play-in is much different. Four teams will compete. The seven seed will play the eight seed, and the winner of that game receives the seven seed. The nine and ten seeds will face off, and the winner of that game will play the loser of the seven versus eight game. Winner of the 8/9 vs 9/10 will receive the eighth seed.
This scenario can be both good and bad. Take a team like the Lakers. They have been injured all season and are now stuck in this tournament. There is a chance they miss the playoffs because of this. Or a team like the Wizards. They also have been injured all season, and are now the 10 seed. They are now fully (other than Bradley Beal) healthy. They are a team who has been injured that now is given a chance to get into the playoffs.
Although it seems like a good idea in that sense, it is also a very bad idea. A team like the Celtics has struggled all season and now are stuck in the 7 seed, with a chance they do not win at all in the play-in and get eliminated. As of right now, The Boston Celtics are facing the Washington Wizards, the Los Angeles Lakers are facing the Golden State Warriors, the Indiana Pacers are facing the Charlotte Hornets, and the San Antonio Spurs will be facing off against the Memphis Grizzlies. The play-in could be very interesting to watch, as we could see teams like Charlotte or Memphis leapfrog their way into the eight seed.
I personally do not like the idea of the play-in, but I do understand it's reasoning and why it could be good for the NBA and it's viewers. As I write this, the Celtics play the Wizards tonight in the first game of the play-in, and I would like the Celtics to lose this game and win the next one so they do not have to play the powerhouse in the Brooklyn Nets.