BC High student helps Florence recovery effort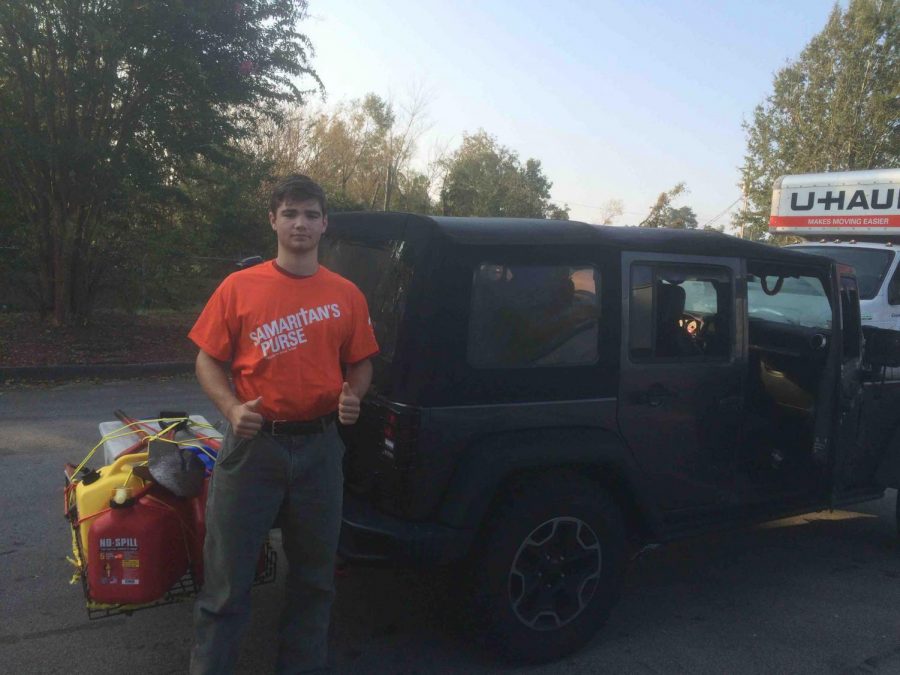 Roy Zhu '21, Editor-in-Chief
November 26, 2018
As part of the Jesuit identity of BC High, service plays a crucial role both as an expression of outward love and charity, and as a way to become more aware of and engaged in the world around us. With the recent spate of natural weather events striking the Eastern seaboard, we thought it would be a good idea to take a look at ways you can make a difference in disaster recovery projects nationwide. This year, one of BC High's students traveled down to North Carolina to aid in recovery efforts after Hurricane Florence, exemplifying our school's belief in service above self.
Note: The following interview has been edited for clarity and conciseness.
Just to get things started, what is your name and year?
"Hello. My name is Luke Willett, Class of 2021, and I am a sophomore this year."
And you went down to the Carolinas for Hurricane Florence relief?
"Yes; I went down to North Carolina last month with Samaritan's Purse for about 5 days."
Was this your first time working in disaster response?
"Personally yes, but my family has long been apart of disaster response and non-profit organizations."
Why did you decide you wanted to get involved in the volunteer effort?
"The whole time I have been at BC High we have always been taught that helping others is what is important, hence the motto "Men for Others". That definitely inspired me to go down and help."
How did you get involved in your group? Did you have any prior connections to them?
"I have always seen adverts for the group asking for volunteers and I felt that it was finally time to respond to those calls for help. I did not have any prior connections to that specific organization."
Where did you stay and work?
"I stayed in the Port City church in New Bern, North Carolina."
How bad was the storm damage in the neighborhoods you worked in?
"There was varying destruction and damage depending on how close the houses were to the water, but the houses and neighborhoods located next to the water were damaged extremely badly and there was flooding at least 2-3 feet covering entire neighborhoods, sometimes even higher than that."
What did these neighborhoods look like? Were they financially well off, or did they seem like they needed a lot of help recovering?
"In general, most of these neighborhoods were lower class and small one floor houses. Most of them would not have been able to afford repairs if it wasn't for the organization I was with, and many of them told us that that was why they were so thankful for us."
Could you describe the kind of work that you did?
"Personally, I was assigned on the tree clean up crew. There were many trees that went through houses and crushed all sorts of property, blocking small back roads that the city wouldn't have really cleared. So my job was to go around and cut up the trees that had fallen, then move and clean up all the debris before asking the homeowners if they needed any other assistance."
Was there any situation you didn't expect to encounter there?
"I think dealing with rattlesnakes was the one thing I wasn't really expecting; the first time I encountered one I was just a little taken aback since we don't have them up here in Mass. But they weren't that bad to deal with, you just have to hit them with a stick and kind of scare them off. Other than that most of the jobs were what I expected."
Did people ever talk about their experiences from the storm? How did they react to the damage or the cleanup efforts?
"Yeah, many of them talked about how much they lost in the storm and they were very thankful for us coming down and helping them."
How did people respond to you? Were they scared, grateful, just happy to see someone help them?
"They thanked us a lot for our efforts and were super grateful."
I know we as Bostonians tend to complain a lot about weather, especially in the winter, but I don't think we've ever seen something on the scale of a hurricane before. Did these people remind you of people back in Massachusetts? Were there any striking differences?
"They were a lot different; they just have a lot more of a laid back attitude down there. I know sometimes people up here get grumpy when there is any weather damage, but they were all just happy to be alive and have their loved ones."
Was there any feeling of hopefulness from when you got there to when you left? Did people seem eager to rebuild?
"They were all super hopeful and they were confident that their houses would eventually be fixed. They cared more about us just being there versus us actually rebuilding."
Was there a moment from your trip that just stuck with you?
"I think the moment that stuck with me the most is when I first got down there and I saw the flooding and destruction, that really set the tone for me on how bad the I realized the damage was going to be."
Looking back on it now, do you feel like the work you did was fulfilling?
"Yeah, I feel like my work met all the needs of the people and I did what I think I was supposed to do, including what BC High has taught me."
Would you encourage other B.C. High kids to volunteer in a disaster scenario?
"Yes, I highly encourage it because I think it is part of the school's mission in making us men for others, but make sure you do it safely as natural disaster relief can be dangerous with the storms and debris."
Samaritan's Purse is a non-denominational Christian aid group specializing in disaster and crisis relief, both in the U.S. and abroad. Based in North Carolina, they have been working since September in helping the area recover in the aftermath of Hurricane Florence, clearing debris and rebuilding houses. Visit their website at samaritanspurse.org to learn more or contribute to ongoing relief projects.