Andrew Donis
March 20, 2020
The outbreak of the coronavirus has had quite the effect on all aspects of life. At BC High we are fortunate enough to continue our learning through online classes, but many schools, businesses, and sports...
Alec Magill
March 17, 2020
On February 1st, the first confirmed case of COVID-19, also known as the Coronavirus, reached Massachusetts. The Massachusetts Department of Public Health (DPH) confirmed this after performing tests on...
Roy Zhu, News Editor
May 17, 2020
Regardless of the Instagram challenges, the extra time on my hands, or the ways I've maintained contact with my friends over quarantine, sometimes the days just feel empty....
Campus Ministry Brings BC High Together
May 17, 2020
Following the closure of BC High's campus due to the Covid-19 pandemic, Campus Ministry decided to host two trivia competitions. The first...
May 17, 2020
I think it's safe to say that 2020 has been a bust. Although separated from each other physically, we can all unite in spirit to blame it on...
Catch Me If You Can: Truth Stranger than Fiction
March 16, 2020
I was honestly pleasantly surprised by "Catch Me if You Can". Ahead of the musical's debut in November, there were a lot of rumors circulating...
Nick Dias
March 16, 2020
At the Mass of Our Lady of Guadalupe in December, there was an unprecedented two homilies spoken. The first was an invitation to participate in Holy Mass, a sacred tradition...
March 16, 2020
At the Mass of December 12, the Feast of Our Lady of Guadalupe, a speaker talked about the American-Mexican border and the conditions of it....
March 16, 2020
For fourteen days a year, high school students across America spend their Saturday mornings taking standardized tests. Most colleges require...
March 16, 2020
It's a new year. School is back in session and students at BC High and many other high schools across the nation are preparing for midterm...
March 16, 2020
Wrestling for me has been a very influential part of my life ever since I was introduced to the sport back in seventh grade by Coach Heller. The daily grind of giving it my all in practice even when I...
March 16, 2020
For those on the BC High swim team, "It's a party. It's a great party," as captain Connor Geise informed me. These swimmers love their sport, and it is shown through their sacrifice and commitment...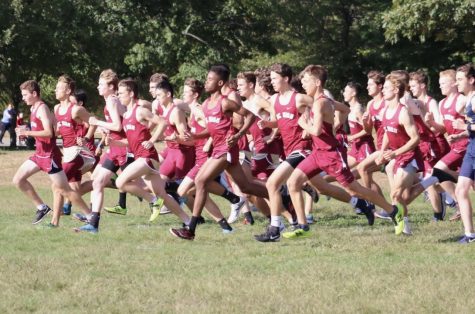 BC High XCountry Finishes Strong
December 5, 2019
The BC High Cross Country season officially came to an end Saturday, November 9th, at the Eastern Mass Divisional Championships. They ran well, finishing in 8th place in the combined North/South Division...
Follow the Eagle on Twitter!

Loading ...