Roy Zhu '21, Co-Editor-in-Chief
June 5, 2018
Les Misérables, much like the 19th century Paris it depicts, is a little bit of everything- a bold, passionate, eruption of the human psyche in its many, many forms. It's easy to see a theme in Les...
Patrick Stanton '20, Contributor
May 3, 2018
Why does an all-boys school need a gender equality club? Perhaps it is better to rephrase: Before joining the college and working ranks, do 1,600 boys (who for 4 to 6 years—depending on if they attended Arrupe—interact only occasionally with girls, predominantly on a social level) need a means to better understand issues about the equality of women, including social, economic, and workplace issues? Yes. Now, more than ever before, engaging in gender equality is critical.
October 11, 2017
Monday mornings in the BC High parking lot host a familiar scene every week. Driving Seniors and Juniors arrive continuously from 6:00 am, exiting their...
October 11, 2017
By now, BC High's students have surely recognized the school's technological shift from WhippleHill's student portal to the new Canvas by Instructure....
September 22, 2017
"God is good," said Grace Cotter Regan. "All the time," replied the entire BC High community. And with that, BC High's first woman president offered...
William Lee '21, Staff Writer
October 23, 2018
Back in 6th grade, I was attending a small co-ed Catholic elementary school. My parents were looking at options for private middle and high schools in the Greater Boston area....
"Men For Others" Includes "For Women"
May 3, 2018
The Gender Equality Club began meeting in November 2017 as one of BC High's newest -- and perhaps one of the most important -- clubs. Why does...
January 16, 2018
When The Outsiders––now a staple of American bildungsroman literature and arguably the pioneer of the young adult genre––was first...
November 14, 2017
They asked me if the world had had enough rambles. I scoffed and laughed. I told them, "The world will never have enough. We are just getting...
Ryan Edmonds '20, Contributor
January 16, 2018
In today's economy, school boards have been cutting programs left and right. Schools are losing funding for arts, sports teams, clubs, and elective classes. These programs...
Why Jeremy Lin's Dreadlocks Are More Than Justified
January 9, 2018
Jeremy Lin, an Asian-American NBA player, has turned fans' heads over the past few seasons with his unorthodox hairstyles. His hairstyles have...
November 14, 2017
Tact • /takt/ n. a keen sense of what to do or say in order to maintain good relations with others or avoid offense. A recent class discussion...
Harvey should prompt Hyde Center consideration
September 22, 2017
It took less than a week of rain to wipe out 100,000 homes. Less than a week of rain to move the 30,000 people who lived in those homes into...
Eagles end football season on a high note
January 16, 2018
The BC High football team capped an amazing and controversial season with a 32-16 victory over Catholic Memorial in their annual Thanksgiving game at Fenway Park. The Eagles went undefeated in one of...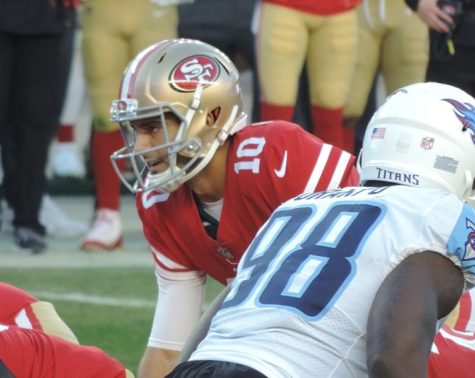 January 16, 2018
The NFL trade deadline brought with it some excitement this season. Jay Ajayi was traded to the Eagles, Kelvin Benjamin was shipped off to Buffalo, and in the biggest move of the NFL season, The New England...
Eagles win first ever golf State Championship, Jack O'Donnell individual runner-up
November 14, 2017
On Monday, November 6th, BC High won the Division I team State Title for the first time in the program's history. Haverhill Country Club played host for the tournament, which was postponed a week from...
Follow the Eagle on Twitter!

Loading ...