A Review of Mark Lettieri's Deep: The Baritone Sessions, Vol. 2
The second installment from Snarky Puppy's Mark Lettieri gets a breakdown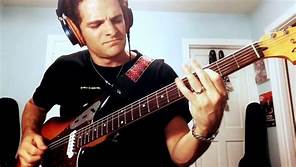 Mark Lettieri is not an unknown quantity. He is a world-renowned guitarist, perhaps better known for his work with Snarky Puppy and other famous bands than his own solo work. However, this has not stopped him from making an impression with his own albums.
Two years ago, in 2019, he released the seminal instrumental album Deep: The Baritone Sessions. This short, 24-minute record showed Lettieri at his best playing a rather unusual instrument: the baritone guitar. Essentially a regular guitar but larger-bodied and pitched down, this allowed Lettieri to expand his playing into a lower register, creating some really funky grooves and fun, albeit short, pieces of music. Two years later, in April 2021, he released Deep: The Baritone Sessions, Vol. 2. Does this second outing with the baritone guitar live up to the first? Largely, I think it does.
The first track, "Red Dwarf," is an upbeat funk track with juicy lead guitar lines and bursts of synth. The drums are exactly where they need to be: present but not overpowering; moving the song along just enough without being over complicated or convoluted. It is undoubtedly a highlight of the album.
The second track, "Magnetar," is significantly darker and heavier than the first. The lead lines are complex and showy, but the guitar tones are clean enough so that nothing feels muddled or messy. This track features a solo from the inimitable Shaun Martin, also of Snarky Puppy. At some point, however, the tracks seem to blend together.
"Pulsar" and "Tidal Tail," while definitely not the same track, are similar enough in feel if not melody. "Voyager One" is a slower funk piece with some awesome synths, a wonderful keyboard solo, and incredibly competent drumming from Nate Smith of The Fearless Flyers.
Next on the list is, in my opinion, the best track on the album. "Star Catchers" is an unmistakable throwback to 1970s funk à la Maynard Ferguson. With a raw guitar lead tone and punchy horns that perfectly support the melody, you can't help but feel that you are transported back in time.
The track that follows, however, is perhaps my least favorite. Not for lack of musicality or finesse, it's just that the laid back funk-country of "Blue Straggler" is not really my style, and so I can't seem to enjoy it. "Nebulae" is one of the tracks that seems to evoke a jam session at times, but tightly written musical composition at others. It's not my favorite track on the album, but it does feature a really nice and unexpected harmonica solo.
The second-to-last track on this album is "Supernova" featuring Kevin J Anderson, who provides a poignant saxophone solo and a shred guitar solo from Lettieri himself. This is another one of my favorites, with a bouncy riff for a melody and a slightly more subdued feel than the rest of the record. This feel leads right into "Sublight," the last track on the album, which is a lullaby-funk piece played on an acoustic baritone guitar as opposed to the rest, which were played on electric instruments. While a little bit disjointed from the rest of the album sonically, it serves well to close the album and is one of the better tracks.
At 46 minutes, this is not an overly long-winded album, but it is over twice as long as the first installment in this baritone guitar series of Lettieri's. Whereas Vol. 1 was a collection of fast, funky jams on the baritone guitar, Vol. 2 seems to be significantly better thought out. While it drags in places (most notably on "Blue Straggler") I think, on the whole, Lettieri is able to pull together an incredible selection of featured artists (seriously, there are 2+ features on most tracks) and create a selection of instrumental pieces of music that ultimately work well together and make a lot of sense. If you like funk, jazz, rock, or anything in between, give this a listen. 
Rating: 7.5/10
Best tracks: Red Dwarf, Star Catchers, Supernova Worst tracks: Blue Straggler, Nebulae

Loading ...